ArtistMarkPeterson.com

Click on any picture to see it larger or purchase.

- Paintings Available for Purchase thru Paypal -

The paintings below are no longer available.
___________________________________________________________________________________________________________________________________________________________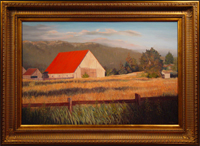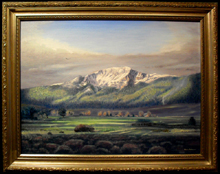 Mark Peterson
Art Awards and Biography
My Painting Philosophy
People often say my paintings bring back memories. I see some of my works as a "mental time machine" in that sense, because many of the things I've painted are gone now. Country stores for instance, are now "quick stop" markets. So I sometimes record "our" point in time. Renaissance masters' painted before the era of cameras and without their paintings we wouldn't know what "their" point in time looked like. Many of their paintings depict the people, towns and rural areas, clothing, technology, war, disasters, historical events, mythology, transportation, tools, agriculture, leisure, festivals and entertainment. So their beautiful works of art are also important windows to the past. Most people don't realize that the historical aspect of a painting greatly increases the value of the masters' works today. Since the time of cave paintings, art has played a leading role in recording human history.
Other things I paint, simply because they are beautiful. In our fast paced modern world really we need something that can take us away from the day-to-day hassles and pressures in our lives. The best therapy is sometimes a simple, yet beautiful and peaceful scene that we can escape to for a few quiet moments after a tough day at work and let our imagination "out to play".
When a painting is completed and the subject matter, color, contrast, light source, tones, dynamics and texture are all in balance and harmony is achieved, the effect is often far greater than what a photograph can produce. Many times, one cannot tell where the canvas begins, because the emulation of depth can be attained to a much higher degree than that of a camera.
A short summary of why I paint ~ "when I see it and it strikes me, I will paint it".
Paintings by Category:
Fishing Boats

Still Life paintings
Religious Art Works

Civil War theme paintings
Links to my art career information
News Article - Artist and Historian
Best of Show Art Award




My "Garden Railroad"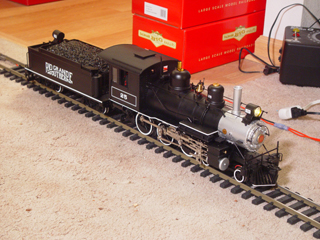 Contact info:
(530) 257-9488 please leave a message on my voicemail with your name and number and the best time to call you back
Susanville, CA
My Facebook: https://www.facebook.com/ArtistMarkPeterson
Member of:
"Lassen County Arts Council"
807 Cottage Street
Susanville, CA 96130

(530) 257-5222
www.lassencountyartscouncil.org
https://www.facebook.com/lassencountyartscouncil/
So What's Happening in Susanville, CA?
http://www.susanvillestuff.com
ARTIST RESERVES ALL RIGHTS
WARNING! You may not copy any of the works of art from this website for your personal use or sale.